Having provided laser hair removal for many years, a question that we are asked by almost every client is whether results are permanent. Laser hair removal is designed to destroy the follicles, stopping the hair from growing, which means that results are long-term if you schedule annual top-up appointments. To ensure that every client is confident with the abilities of the treatment before going ahead with a course of sessions, we have devised a full answer to the question 'is laser hair removal permanent?'.
Is Laser Hair Removal Permanent? A Full Answer
Laser hair removal is, undoubtedly, the most long-term solution to keeping your skin smooth, especially when compared to alternative methods such as shaving and waxing. It is the only technique that can target the follicles themselves, as opposed to merely pulling the hair from the skin for a short period of time. With this in mind, if you are new to the world of laser hair removal, then the equipment used and impact on the skin can be a little tricky to get your head around. So, to help you to determine whether laser hair removal will provide you with the permanent results you strive for, we're going to run through answers to the following questions:
How Does Laser Hair Removal Work?
How Long Do Results Last?
Does My Hair Colour Make A Difference?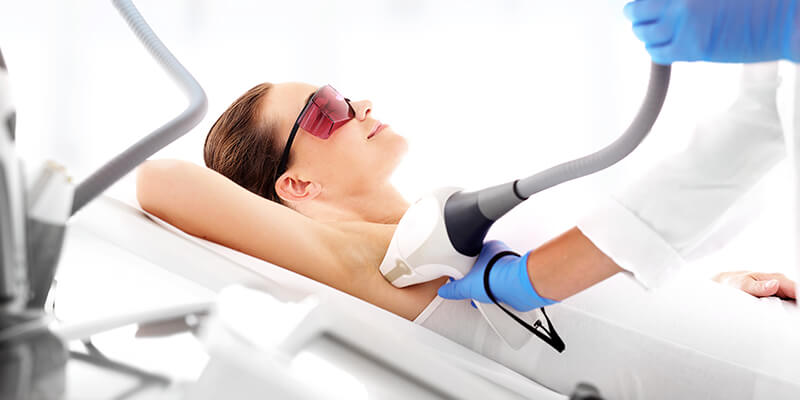 How Does Laser Hair Removal Work?
As the longest term solution to achieving silky smooth skin, laser hair removal utilises high-intensity beams to impede hair growth. During sessions, a hand-held laser device is pressed against the treatment area, which emits rays of light. The light is then absorbed by the melanin (colour pigment) in each strand of hair, which will begin to heat up and eventually, damage the follicle. The follicles are tiny pores in the skin that produce hair which means that if they are destroyed, hair growth will be limited and in many cases, stopped altogether.
Although this may seem somewhat intense, it is essential to note that laser hair removal is a minimal pain procedure. Due to the precision of modern equipment, none of the tissue surrounding the follicle will be damaged. This means that laser hair removal can be used to treat a host of areas from the legs and arms to face and bikini line.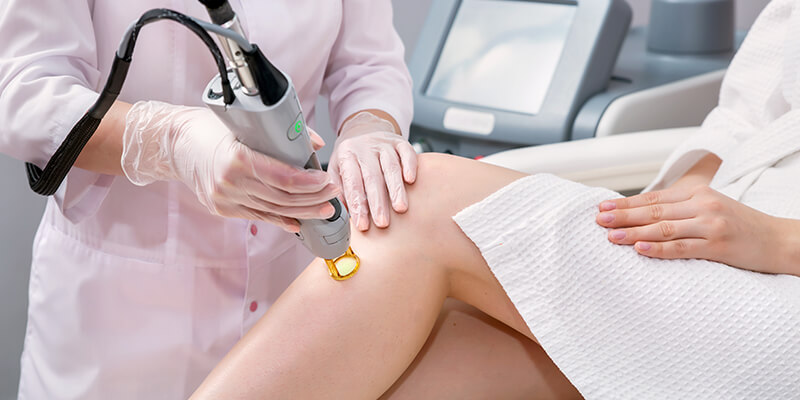 How Long Do Results Last?
To achieve maximum results from your laser hair removal, it is vital to be patient as while you will notice a difference after a few sessions, it will take time to target all follicles. Most clients who opt for our laser hair removal in Northampton book a set of six sessions, which is the average number of appointments needed to achieve long-term results. These sessions will be scheduled around four weeks apart as this will give the skin plenty of time to recover before reapplying the laser beams. Due to this, it commonly takes approximately seven months for our clients to complete their course of treatments. Many opt for beginning their sessions as the year reaches an end so that they can be hair-free by the following summer.
When embarking on a course of laser hair removal sessions, keep in mind that it takes up to three weeks for any dead hair to push through the skin and shed. This means that you will begin to notice the hair becoming patchy after your second session, then progressively more as time goes on. Once all of the follicles have been damaged, it forces them into a state of dormancy, which means that hair will not grow back for up to 12 months.
To maintain your results and enjoy the 'permanent' benefits of laser hair removal, it is imperative to book in for top-up appointments. If you do experience any regrowth within this time, then it is likely that the hair will be significantly lighter, finer and more sparse. How frequent you will require follow-up sessions will be based on your speed of hair growth; however, most clients have no problem maintaining their results with just annual top-ups. As only small areas will need to be treated during these sessions, they are likely to be considerably shorter than the length of your original appointments.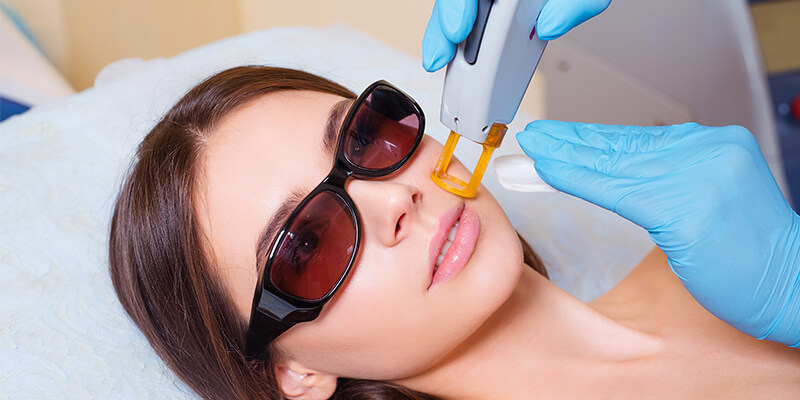 Does My Hair Colour Make A Difference?
As mentioned above, laser hair removal works by targeting the melanin in the hair, which means that your results can differ based on your natural hair colour. Those with a combination of dark hair and a light complexion are the perfect candidates for the treatment as the laser will only target the follicles themselves. As there will be a clear contrast between skin and hair, all energy produced from the laser equipment will go straight towards destroying the follicle. This means that, if you are naturally fairer with darker hair, you're likely to achieve results quicker and on a longer-term.
However, this most definitely doesn't mean that those with light hair or a darker complexion cannot reap the benefits of laser hair removal. Thanks to the innovation of laser equipment from brands such as Lumenis, it is now possible for everyone to achieve long-term hair removal, it just may take a little longer. Before booking your course of sessions, you will always be asked to visit the clinic for a consultation and a patch test. Here not only will you be able to discuss your requirements, but you'll also be able to get an idea on how successful your laser hair removal will be. It means that, if you do need to book extra sessions, these can be scheduled from the beginning to avoid disappointment.
Achieve Long-Term Hair Removal With New You!
In completing a course of laser hair removal sessions with New You, you are guaranteed to achieve a dramatic reduction in hair growth. Through spending time to create a tailored treatment plan, results can be maximised, meaning that you can enjoy hair removal on a long-term basis. If you are hoping to begin your journey to silky, smooth skin, then do not hesitate to contact the team at New You. Our team have years of experience in providing specialist treatments, so we will work with you to ensure that you are thrilled with your outcome!
Learn From The Best
Our Latest News & Articles