As we reach the end of winter, its time to start rejuvenating our skin, ready for the warmer months. The cold weather would have brought us a multitude of issues, not just frozen fingers and toes, which means our skin is in need of nourishment. In the past, face creams and home pamper kits were designed for women, but there has been a new surge of male grooming and pamper products seen on the shelves of our favourite drug stores. This is an indication that men are beginning to love a face mask just as much as the women, and rightly so! Many of our clients are men, and their skin needs the same level of care and attention, making facials and massages among favourite treatments. So, if you're new to the beauty world or want to know what else is out there, here is a guide to the top beauty treatments for men.
Beauty Treatments For Men: Our Top 6 Picks
Life brings many stresses, all of which can affect the appearance of our skin and how confident we feel. Luckily, there are multiple treatments that can help to bring back a youthful glow and radiance in self-confidence. Not only this, but men have insecurities too, some of which can easily be removed or minimised through regular beauty treatments.
As professionals in an array of beauty treatments in Northampton and the surrounding areas, we have a host of solutions to help you feel more confident. Through years of experience, our team has the ability to welcome you to a new treatment and have you leaving our clinic looking fresh and feel confident! Let's take a closer look at the top beauty treatments our male client's book in: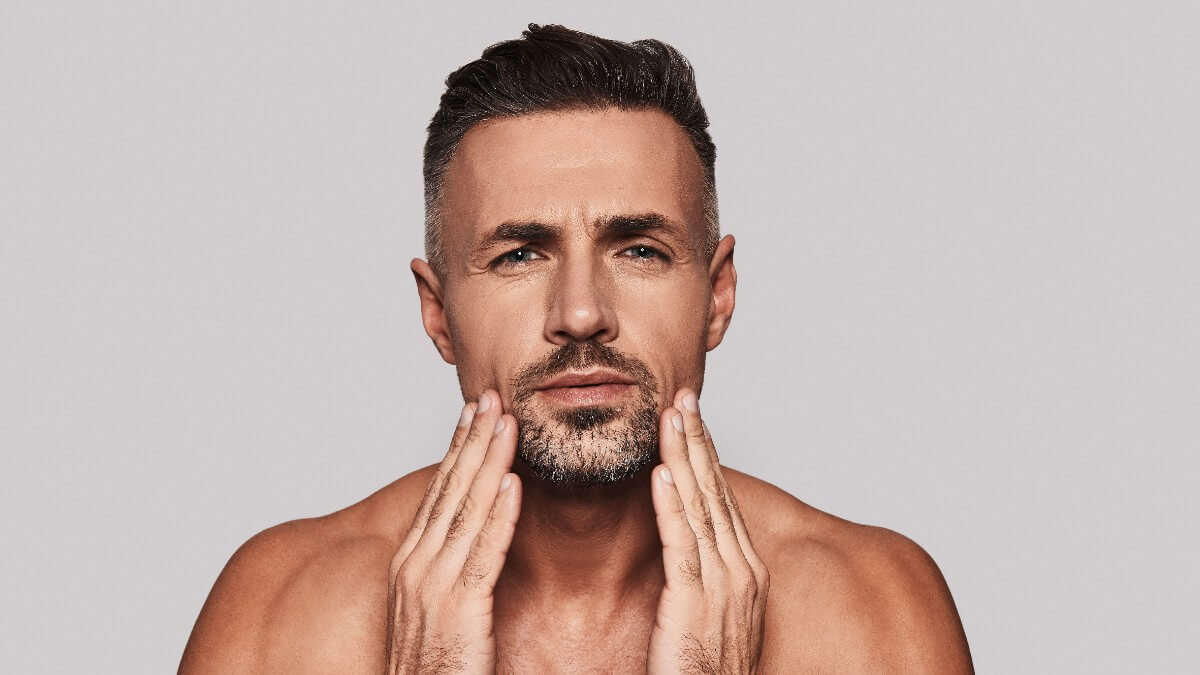 The Benefits of Mens Beauty Treatments
Before diving into the best beauty treatments for men, it is first important to understand how a vast range of treatments can transform your confidence and skin. In fact, our men's skin treatments are ideal for those suffering from acne, signs of ageing, or tired-looking skin. There are an abundance of benefits that you can take full advantage of when booking in for a treatment, whether it be hair removal, scalp micro-pigmentation or even a relaxing facial. Just some of these benefits include the following:
Reduce fine lines and wrinkles
Bring a youthful glow to the skin
Reduce ingrown hairs and sore patches
Saves money
Relaxes you
Can treat skin conditions
So, now that you know the many benefits that you can enjoy, it's time to start understanding which treatment can provide you with the benefit that you are after.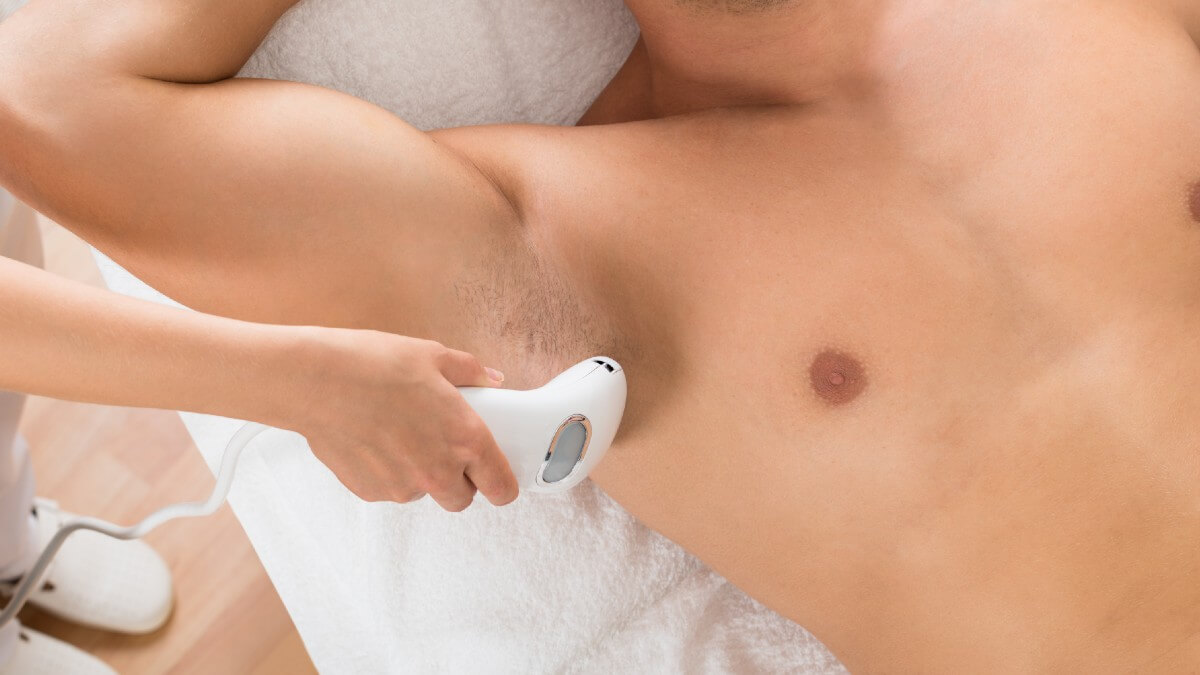 Believe it or not, but male waxing has become extremely popular in recent years, and is most common over the summer months and holiday seasons. The most booked in male waxing is on the chest and back, which are the two areas that men with particularly hairy bodies tend to feel the most self-conscious about. This is why waxing has become popular, as it provides men with an easy and cost-effective solution to get rid of unwanted hair ready for their holiday.
One of the main reasons men tend to be put off waxing hair is because of its association with pain. The level of pain will greatly depend on a number of things, such as whether the hair is sparse, if it is thick, whether it is has been waxed before and your pain threshold. For this reason, it may be more painful for one client than it is for another. The key point to remember is that the more often you get it waxed, not only will you get use the sensation, but the hair will start to thin, making it less painful with every appointment.
The Benefits
In general, waxing hair will provide you with a smooth surface for around 6 weeks, and the more you wax the area, the longer you can enjoy hairless skin! Some of the other many benefits of having waxing include the following:
An even finish
Longer-lasting results
Reduces painful ingrown hairs
Weakens hair
No razor burn
Various waxes to suit multiple skin types
After having waxing complete by our professional team, make sure that you do not apply moisturiser to the treated area, avoid hot showers or baths and sun exposure for around 24 hours. You may also want to wear cotton clothing over the area being treated to avoid any uncomfortable friction. For more information on how to treat the skin after waxing, please take a look at Healthline's advice.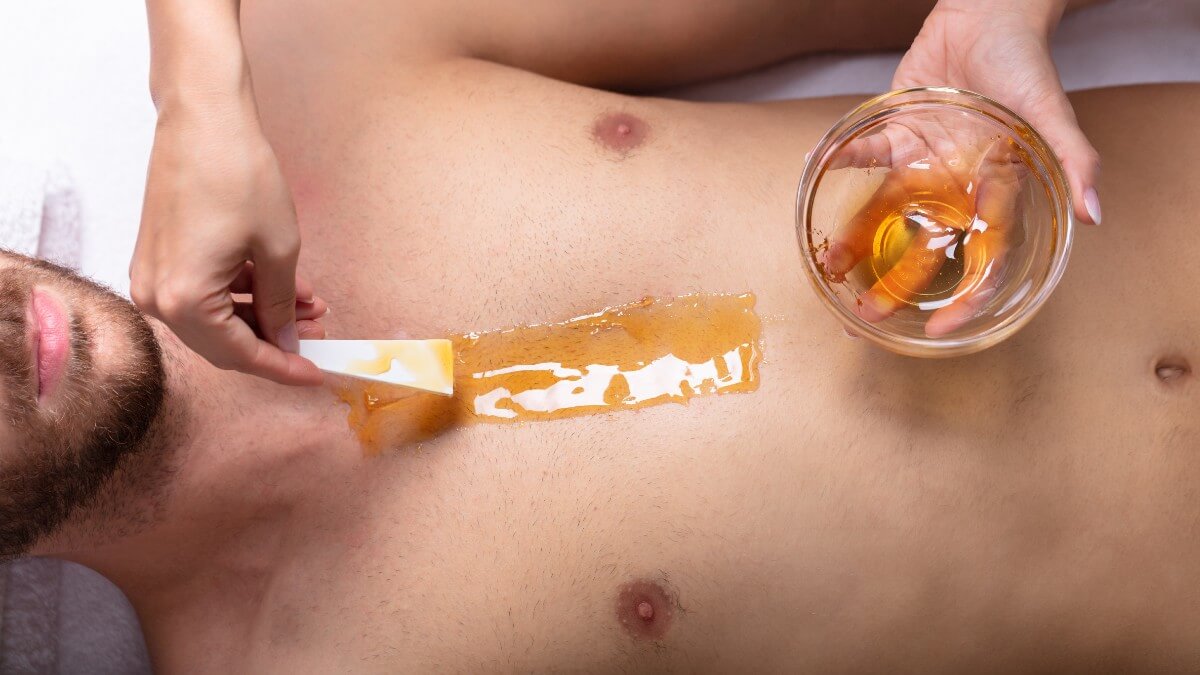 For those that are not keen on arranging a waxing appointment every 6 weeks, but would still like to take advantage of hair removal solutions that last more than a day or two, then laser hair removal is the perfect solution or you. Unlike other hair removal solutions, laser hair removal is the most effective for long-term results, and has become one of our most popular treatments among women and men in recent years. For men, laser hair removal can be complete on most areas of your choosing, making it ideal for those looking for a more permanent removal on the chest or back area, for example.
Laser hair removal works by applying a laser onto the area, which will then emit light into the skin and absorb the pigment causing it to damage the hair follicle and delay further growth. The number of sessions you require will depend on several things, such as the thickness of your hair and the contrast of colour from your skin to the hair follicle. For example, those with light skin and hair are likely to require more sessions for the laser to target the pigment than those with light skin and dark hair.
Much like waxing, there is a lot of stigma around the pain associated with laser hair removal. However, while uncomfortable, laser hair removal is likely to be significantly less painful than waxing and provides you with longer-lasting results. Most clients find that they can get used to the uncomfortable feeling of laser hair removal in no time, and in our opinion, the pain is well worth the 12 months of smooth and hairless skin.
If you would like to consider laser hair removal in Northampton of the surrounding areas, then why not book in for a consultation with our team? Our team are highly experienced in all treatments, providing you with the knowledge and advice you require to make an informed decision. We would also advise taking a look at Shape's article for information on what to expect from laser hair removal for a better understanding before your consultation.
The Benefits
Laser hair removal has similar benefits to waxing, but the results can last a lot longer, and you can benefit from smooth skin without the need for constant attention.
Longest hair removal solution
Precise targeting
Fast treatment
Saves money and time
No more ingrown hairs
Improves skin by minimising irritation
After laser hair removal, you can expect slight redness if your skin is sensitive, and if this is uncomfortable, then applying some ice to the area should help to reduce the redness. In terms of aftercare, all you will need to do is make sure that you follow the same advice for waxing; no sun exposure and no hot water or lotion for 24 hours.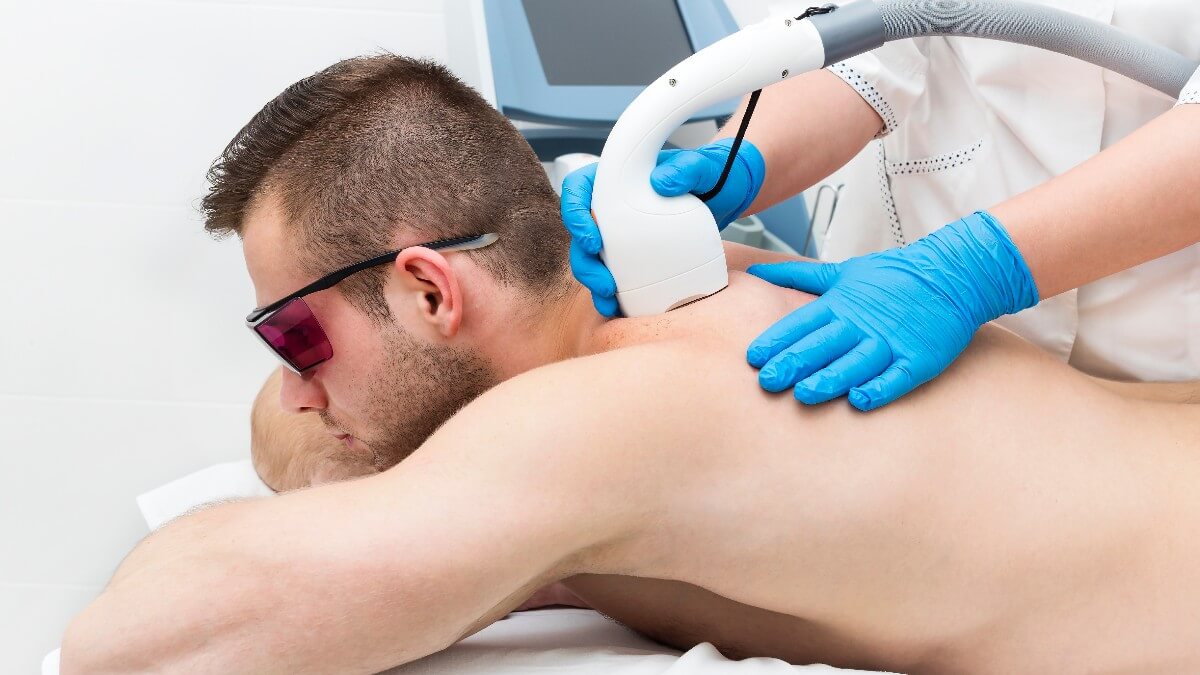 Something that often gets left behind when thinking about beauty treatments for men are facials. These are just as important for men, and should be booked in for a treat every month. There is now a selection of men's skin treatments that you can choose from depending on the results you wish to have. For example, the CBD facial treatment helps to relax you while it works to cleanse and detox the skin. This is perfect over the winter period when your skin is exposed to harsh weather conditions. It can provide you with the youthful glow you need for that little pick me up.
Another fan favourite facial here at New You is the laser carbon peel, which helps to clear pores and exfoliate the skin to give you the boost you're looking for after the winter. Laser carbon peel works by applying a carbon lotion to the skin and then using a laser to break down the carbon into fine particles. This process helps to remove dead skin, excess oils and impurities, all of which can cause breakouts and clogged pores. Our professional laser carbon peel in Daventry is a sought-after solution for many of our male clients, and is the perfect opportunity to treat yourself, and your skin to a much-needed nourishing.
Other facial treatments that can also help to cleanse the skin and provide you with a youthful glow include the following:
Whether you are looking for a relaxing CBD facial or dermaplaning in Daventry, why not give our team a call to book in your treatment?
The Benefits
Each facial will offer different results and their own host of benefits; however, most facials will come alongside the following benefits:
Reduces stress
Gives your skin a deep clean
Rejuvenates the skin
Helps with ageing and fine lines
Improves circulation
Can help to treat acne
Exfoliates the skin
Some can tighten the skin
You may wish to choose a facial depending on the issues you are having with your skin, such as breakouts or under-eye bags. If you are unsure about which treatment is right for you, then Skin Kraft has a handy article on how to find the perfect facial for your skin type.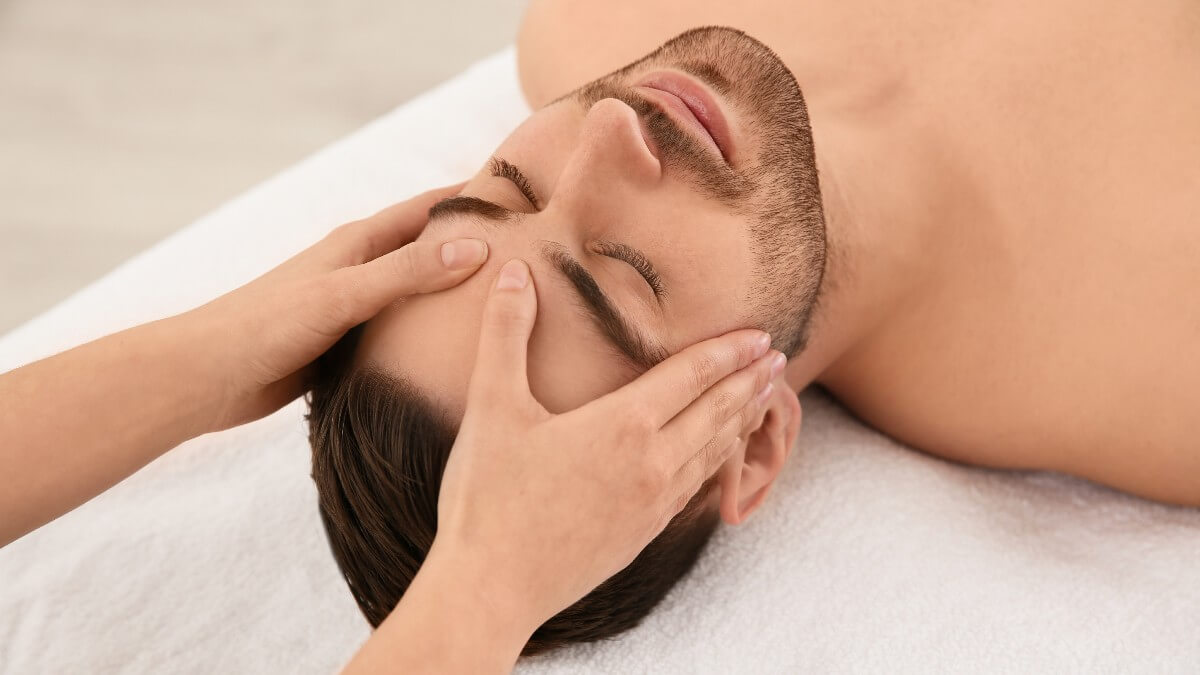 A common issue that causes many men to feel self-conscious is hair loss; this is particularly the case for a young man. However, there is a very easy and cost-effective solution to this issue; scalp micro-pigmentation. This is where our professional team will apply a temporary ink to your scalp, which can give the appearance of stubble. The reason this is the perfect solution for hair loss, is that you can choose to have the whole area treated, or you can choose to have sections treated to give the appearance of thicker hair. Not only this, but the colour of the pigment can also be tailored to your natural hair colour, whether you require a darker or lighter tone.
A concern that many of our clients have is whether the treatment is permanent or painful. Scalp micro-pigmentation is not a permanent solution, and you will require to have it reapplied every 1-3 years, depending on how well you care for the area. When applied, clients can expect a sensation similar to applying needle pressure to the surface of the skin, and while uncomfortable, it is not necessarily painful.
The Benefits
The most important benefit of scalp micro-pigmentation is that it can provide you with the confidence that you have been looking for and lasts for a long period of time before you require a top-up. Other benefits include:
Safe solution
More affordable than other alternatives
Fairly quick treatment
Requires little maintenance
Looks realistic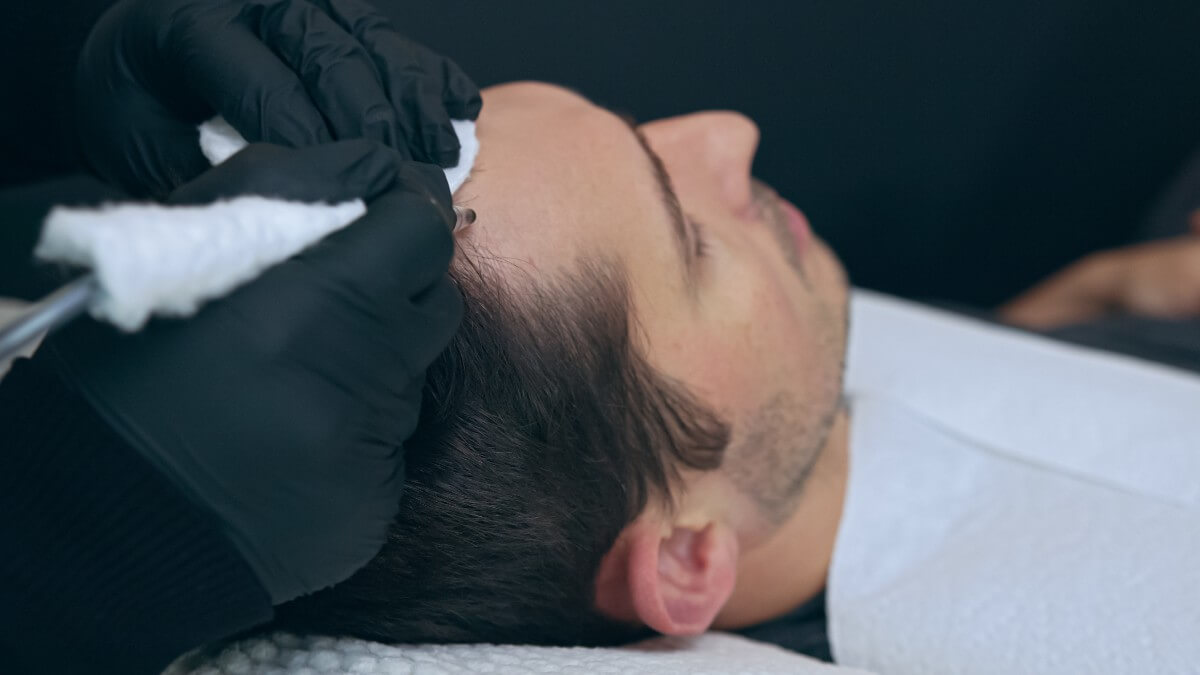 Unwanted tattoos can have a dramatic effect on your confidence, especially if they are on show. Luckily, there is one way in which you are able to wind back time and remove an unwanted tattoo that you no longer love. Through professional laser tattoo removal, you can easily remove ink from the skin without causing significant scarring or damage. This treatment can be complete on most tattoos, and the darker the tattoo, the easier it is to remove. The reason for this is because, much like laser hair removal, the laser used for tattoo removal targets the pigment to disperse the ink in the skin, causing it to breakdown.
Depending on the size of the tattoo and the colours, you may need a fair few sessions in order to fully remove the pigment. However, when booking in for this treatment, you will have a consultation with our professional team, who will walk you through everything you need to know before making your decision, including the number of sessions they believe you will need. In terms of pain, many clients will compare it to having the tattoo applied as it tends to feel like a small sharp sensation that you get used to overtime.
If you are unsure about the procedure and you like to know more, then Tattooaholic has a detailed guide on what to expect. Alternatively, please feel free to speak with our specialist team about our laser tattoo removal in Daventry and the surrounding areas. Our team can help you to arrange a consultation to speak with a specialist, where they will inform you of the process and whether you are right for the treatment.
The Benefits
One of the main advantages of having your tattoo removed is that it offers a permanent solution to removing an unwanted piece of art. Other benefits to this treatment include the following:
Less risk of scarring
You can choose to remove sections of a tattoo
Most clients are suitable
Minimal recovery time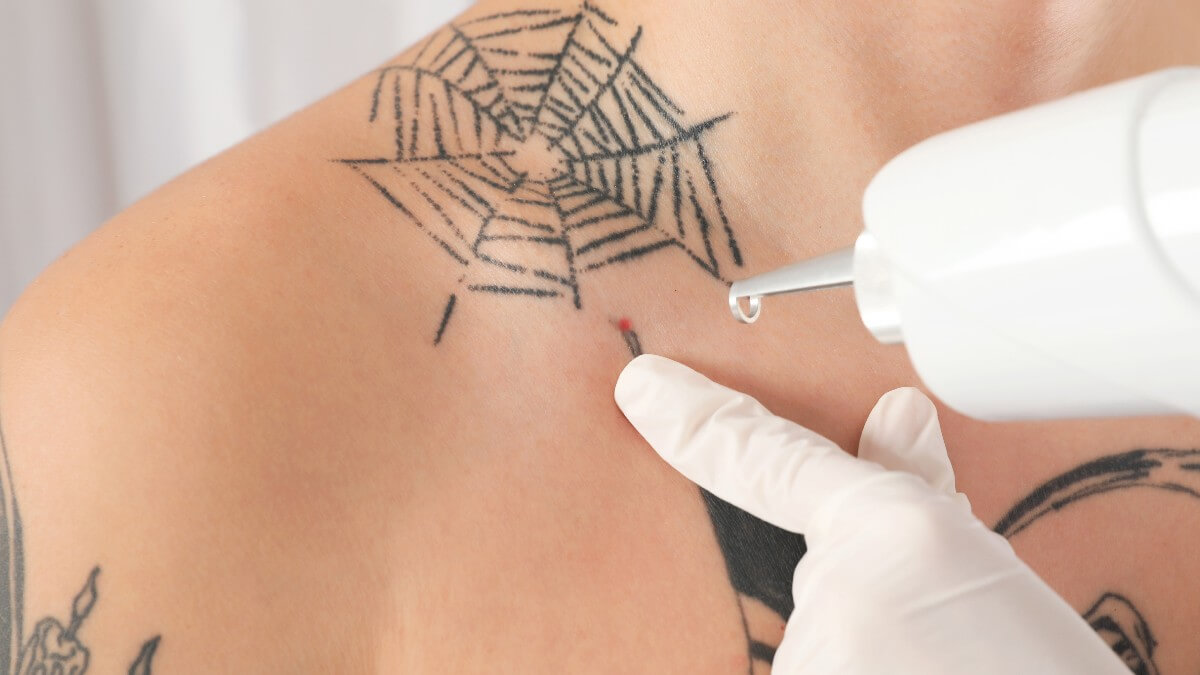 We can all feel a little self-conscious when it comes to our weight, especially when we try dieting and exercise but can't seem to shift those last few pounds. Luckily, there is now a cost-effective and non-surgical solution to reducing fat in areas of your choosing, such as your legs or waistline. In fact, our Cryolipolysis fat freezing treatment can last under an hour, giving you the confidence to wear your summer clothing without worrying about unwanted areas of fat.
Our fat freezing in Northampton works by using an advanced device to target fat cells, causing them to die, and once dead, they will naturally be passed through the body. This makes a cost-effective and relatively pain-free alternative to surgical procedures such as liposuction, as it does not require any of the skin to be cut. The procedure also makes it less likely for you to experience any side effects, and you will not need to take time out of work for recovery unless you choose to.
The Benefits
You will be surprised and pleased to know that there are multiple benefits to having fat freezing treatments, especially when choosing this treatment over its weight loss alternatives. Just some of the amazing benefits that you can take advantage of include the following:
Non-surgical treatment
Low risks to the procedure
You will not be sedated
Takes under an hour
More than one area of the body can be treated during one appointment
Can instantly go back to day-to-day life
No nerve-fibre, blood vessel or muscle damage
Fat cells that are damaged will be permanently removed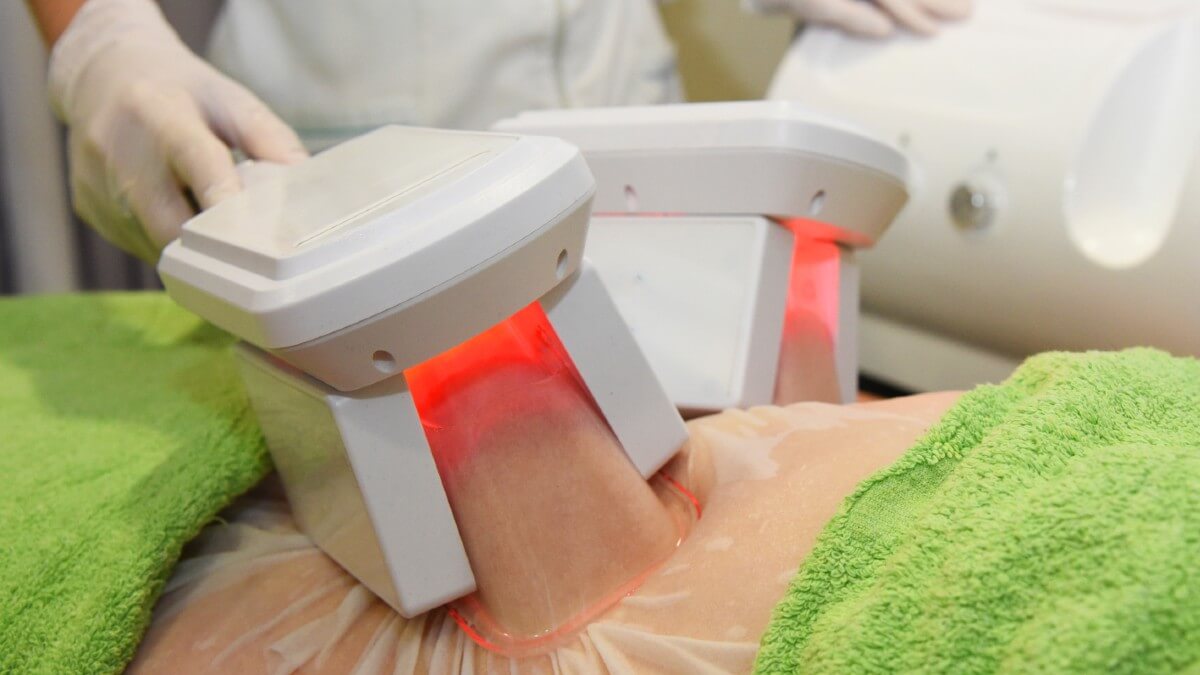 Book Your Next Treatment Today
You deserve a treat every now and then to help boost your confidence and feel good in your appearance, and there is an abundance of treatments you can choose from. Whether you need a touch of glow to your cheeks or a confidence boost with the illusion of hair growth, the New You team are here to help. Through our array of treatments, you can walk out our beauty clinic feeling like a new man. Feel free to contact the team today for more information and to book in your treatment today!