So you have spent hours perfecting makeup fit for the red carpet and ready to showcase your masterpiece. But, the thought is always at the back of your mind, how long will it be before I look in the mirror and see my hard work smudged, patchy or disappeared altogether? Well, this is where we are here to be the answer to all of your prayers. We have the secret to long-lasting makeup and don't worry, we're ready to spill the beans!
How To Achieve Long Lasting Makeup
Whether you have a super busy schedule or are heading out to celebrate a special occasion, everyone dreams of nailing flawless all-day makeup. While there are tonnes of products promising long-lasting makeup, there are a few staple items that you most definitely need in your makeup bag. Keep reading to find out more about the following tips and tricks:
Book In For Semi-Permanent Makeup
Always Prep Your Skin
Use A Quality Primer
Experiment With Oil-Free Foundation
Set With A Powder
Invest In A Setting Spray
Blot Makeup With A Sponge
Book In For Semi-Permanent Makeup
Having specialised in semi-permanent makeup in Northampton for many years, we can most definitely confirm that the best way to ensure that your makeup remains perfect all day is to opt for semi-permanent alternatives. Whether a significant chunk of your morning routine is taken up by meticulously carving your brows, perfecting your signature winged liner or you are spending a fortune replacing your favourite lipstick, semi-permanent makeup is ideal for solving all manner of beauty-related dilemmas. No longer will you have to go through the hassle of a lengthy makeup application process as you can wake up each morning with your favourite look. And more importantly, you can be absolutely guaranteed that the results remain perfect all day, regardless of how stressful or long your day may be.
When considering semi-permanent makeup, there are an abundance of options to choose from; all of which are designed bespoke to you. Semi-permanent eyebrows, eyeliner and lipstick, are all available depending on your requirements. Your qualified semi-permanent makeup artist will work with you to ensure that results are as natural or dramatic as you wish, carefully colour-matching all pigments to your tone or desired shade.
Unlike other types of semi-permanent makeup, such as microblading, the techniques used by New You involve no trauma to the skin, meaning that you will experience no cutting or scratching. Instead, an innovative pen-like device will be used to place the colour pigment on top of the skin, making semi-permanent makeup application a minimal pain treatment. Results will usually look a little dark initially, however, will subside to the colour-matched shade within a few days.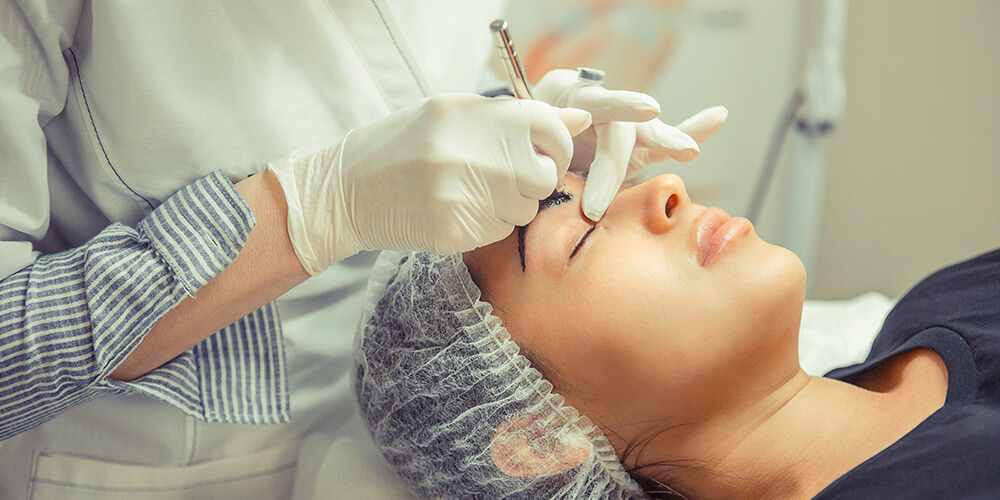 Always Prep Your Skin
Although semi-permanent makeup is perfect for achieving long-lasting eyebrows, eyeliner or lipstick; unfortunately, there is yet to be a solution designed for the skin. Foundation, concealer and powder will all still need to be accompanied by quality products to ensure that your makeup remains flawless all day. The key to achieving makeup that can stand the test of time is preparation. In creating a clean, blank canvas that has been prepped with the right products for your skin, you will immediately notice that your makeup applies smoother and settles seamlessly on the surface.
First and foremost, all dead skin cells must be removed, and pores unclogged. Attempting to apply makeup on top of dry, dirty or oil-filled skin will only cause it to sit unevenly, causing it to slowly become patchy throughout the day due to added texture. We suggest gently exfoliating the skin twice a week, which will keep the skin smooth, making your makeup last longer. There a host of different ways that you can exfoliate and your chosen method will be based on your skin type. Polishes, shrubs and cleansing brushes are all great ways to keep your skin as smooth as silk. If you're looking for inspiration on where to begin your search, take a look at Glamour Magazine for the best exfoliators based on your skin type.
Another effective way to prep before makeup application, while it may seem somewhat obvious, is to ensure that your skin has been thoroughly cleansed. In many cases, only using a face wipe will not clear the pores, which means that it is always recommended to factor a cleanser into your routine. Cleansers can be used to not only unclog the pores from contaminants but also nourish the skin, keeping it super healthy with a natural glow. Similarly to exfoliators, the cleanser that you opt for will be dependent on your skin type. More guidance on finding the right cleanser for you can be found on Marie Claire.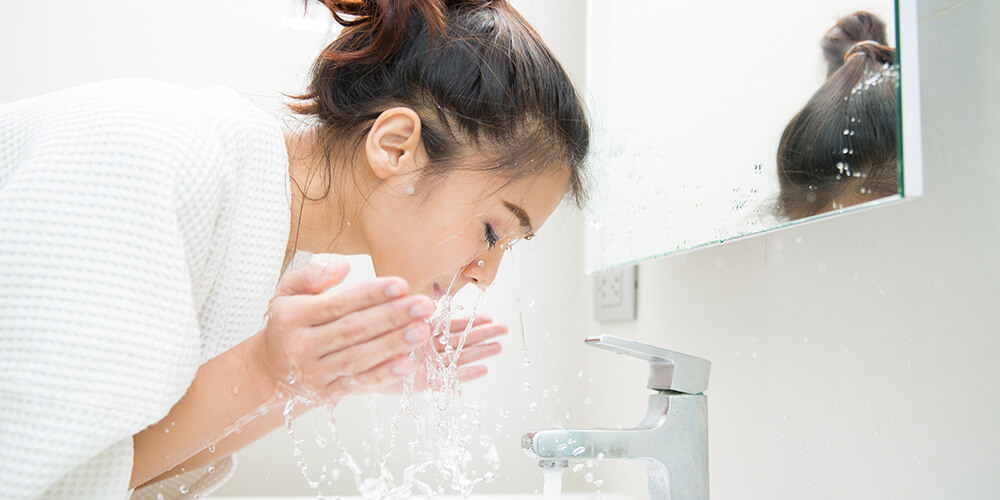 Use A Quality Primer
Primers have become a staple in every makeup bag of the 21st century, but do they actually help your makeup to last longer? Well, the answer is yes, if you opt for a quality primer that is suited to your skin type. Primers are designed to sit underneath your foundation, creating a smooth surface and even complexion. They also, most importantly, create a barrier, preventing your makeup from being absorbed by the pores, giving it a greater, longer-lasting staying power.
As we have all fallen in love with the wonders of primers, there are now tonnes of different variations available to suit everyone's makeup preferences. Not only are there primers designed to illuminate the skin or disguise visible signs of ageing, but also others to successfully colour-correct imperfections. As featured in an article by Allure, there are five different shades of colour correcting primer, including green to camouflage redness and peach to tackle pigmentation. These are ideal for keeping on hand for the dreaded moment when you spot a breakout before a big event. Place a small amount of product on top of the problem area, blend into the skin then continue your makeup routine as usual. We always advise applying primer after your moisturiser has absorbed into the skin as this will allow the skin to remain hydrated without becoming overly oily. Superdrug has put together a fantastic guide on how to use primer like a pro, which is perfect for those who hope to add new products to their makeup routine!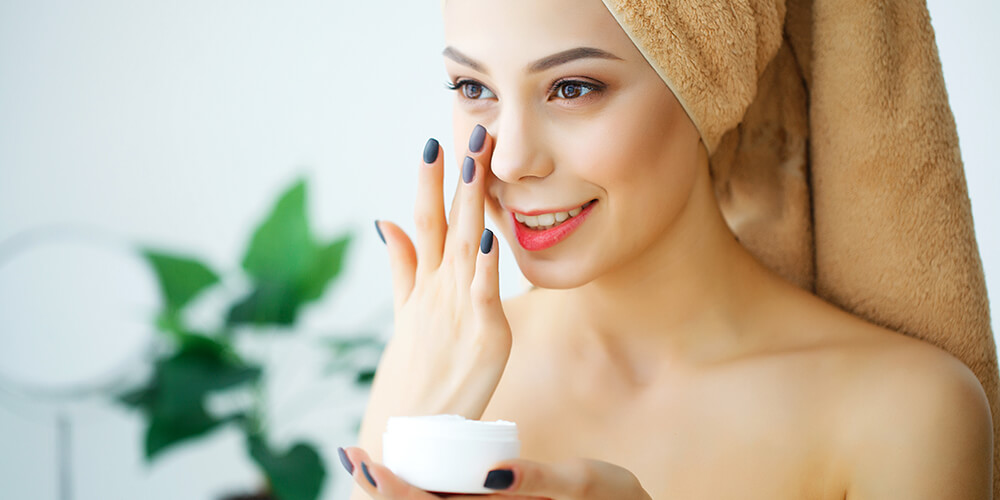 Experiment With Oil-Free Foundation
Finding your 'holy grail' foundation does take a considerable amount of trial and error; however, if you're hoping to nail all-day-long makeup, then always opt for those that are free from oil. While, especially if you have dry skin, it may seem as if foundations that include oily ingredients are the best option, there is a good chance that the product will start to slide off the skin throughout the day. Instead, choose a foundation that is still designed to give the skin a natural radiance yet also includes long-wear properties. There is a wealth of affordable dewy foundations which have been created to stay flawless for hours, without having to switch to matte alternatives which can often cause the skin to look dull. Some of the most popular oil-free foundations which will not clog the pores, yet will still give you a healthy glow, include:
When applying foundation for longevity, always ensure that you build up the product in thin layers. One thick, heavy layer will not only look unnatural but will also cause your makeup to slide and become patchy throughout the day. Opting for applying light layers until you reach your desired coverage will also avoid creasing and caking.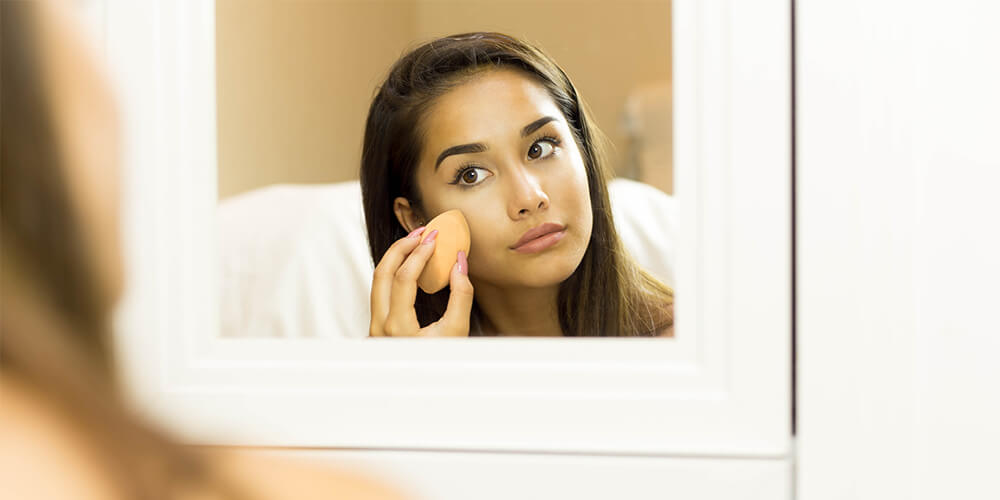 Set With A Powder
Once you have finished applying your makeup, it's time to set your masterpiece in place with setting powder. Setting powder will help your makeup to stay put, especially areas that are commonly more oily such as the T-Zone. It will prevent, particularly concealer underneath the eyes, from creasing throughout the day, keeping your skin looking super smooth and imperfection-free.
When shopping for a quality setting powder, if you are more suited to a natural makeup look, opt for a translucent powder instead of white. Applying too much white setting powder will cause the skin to look 'flat' and create an unnatural appearance. Translucent powder, on the other hand, is considerably finer, which means that although it will ensure that your makeup stays in place, it will also brighten the skin, perfecting your complexion. It is entirely your choice as to whether you opt for applying the powder with a flat-shaped brush, powder puff or makeup sponge; however, always ensure that the product is pressed into the skin.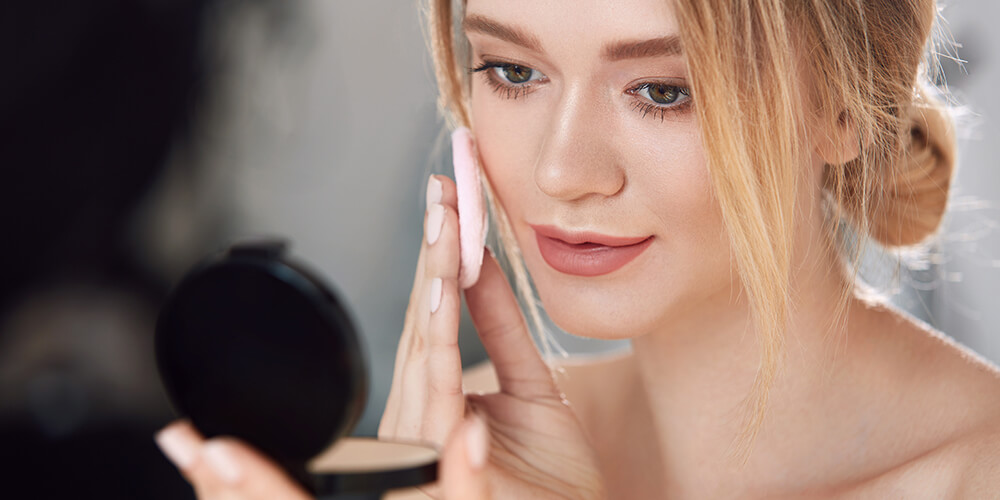 Invest In A Setting Spray
For those who are venturing off for a day trip, heading out on the town or simply want to keep their makeup flawless all day, a setting spray is an absolute must! As a makeup artists favourite finishing touch, setting sprays have been formulated to act as hairspray for the face. Once the fine mist has been sprayed onto the face, the makeup will never budge, regardless of how long it is kept on the skin. If you are on a quest to nail all-day makeup, then setting spray should always be the final step of your routine before setting off for the day. Take a look at Cosmopolitan for a guide to the 12 best setting sprays; we can guarantee that you will find a product to fit every skin type and price tag.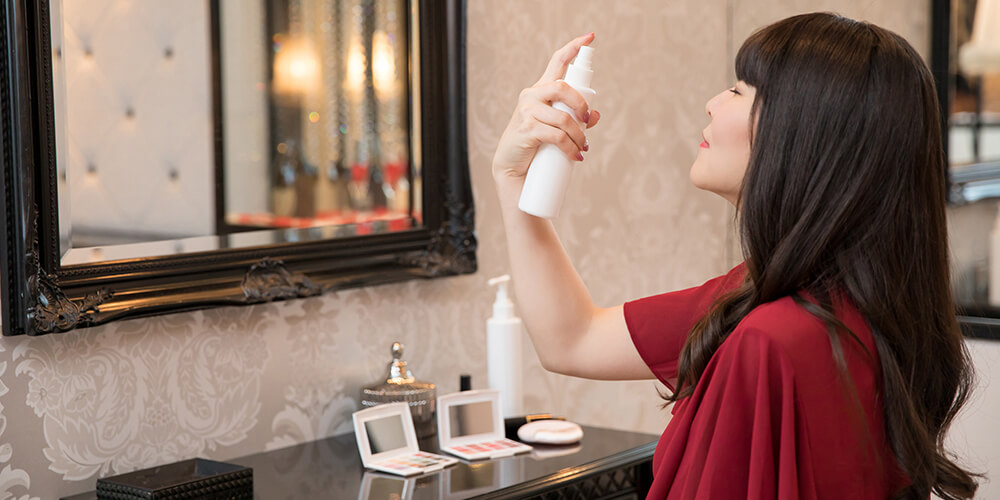 Blot Makeup With A Sponge
If you reach the midpoint of your day and hope to add a little top-up to your makeup, never be tempted to reapply products. Especially when it comes to powder, adding extra layers of makeup will only cause the skin to look cakey and patchy, ruining the look altogether. Instead, use a sponge to blot the skin, which will absorb any unwanted oil and shine without removing any makeup. Beauty Blender has designed a 'Blotterazzi' which can be used to effortlessly keep your complexion flawless. It comes in a super sleek compact which allows you to carry around your Blotterazzi in your handbag while keeping it clean and fresh.
A Flawless Complexion, All Day Long
Through spending time experimenting with different products and perfecting your makeup routine, you can most definitely nail a flawless complexion all day long. It all starts with preparation; ensure that your skin is well cared for, scheduling a little extra TLC a few times a week to keep the surface super smooth. Alternatively, you can ditch the eyebrow products, eyeliner and endless supply of lipstick by taking a visit to our beauty clinic in Northampton. Our team of specialists are always more than happy to book you in for a semi-permanent makeup consultation to discuss your requirement, achieving the results of dreams!